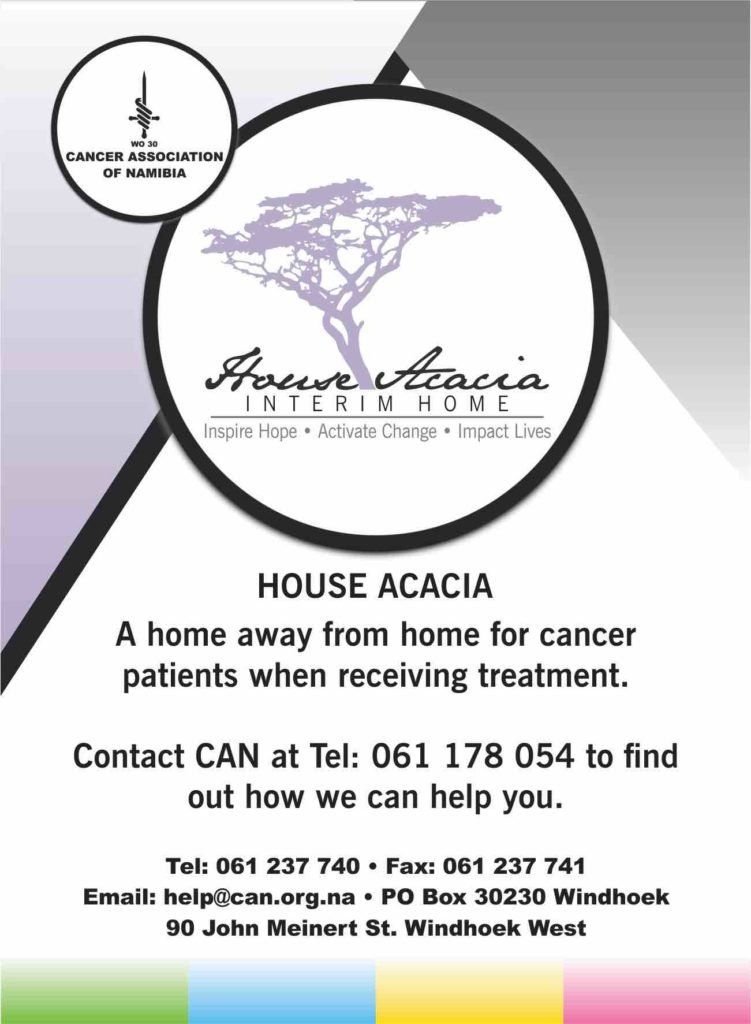 House Acacia was established in 1986 with nine beds at 94 John Meinert Street, Windhoek West.
Interim homes form a key component of cancer treatment and at CAN's House Acacia (for adult cancer patients)  we aim to provide caring "homes of hope" for those undergoing treatment. Patients make our homes their home during their 6-weekly treatment plans, or for follow-ups in preventing the spread of cancer. Our patients hail from more than 24 residential hubs nationwide and include the full spectrum of the Namibian house. We pride ourselves in honouring culture, diversity and focusing on the core aspect of cancer treatment by supporting the individual and embracing the cancer journey together.
The exclusive purpose of this interim house was to accommodate out-of-town cancer patients (mainly from rural areas) undergoing treatment at the Dr A.B. May Cancer Treatment Centre. Ten years later, to address the serious lack of space, House Acacia was extended to accommodate 21 beds. Linen and towels are provided. 
During 2017/18, the new and modern Kurt Johannesson Wing was constructed with additional rooms, wards, bathrooms and a new dining room, to accommodate 35 patients.
Dear Members of the Public,
Due to the current economic climate, the Cancer Association of Namibia (WO30) has been necessitated to introduce a nominal donation structure for patients who have until now received fully complimentary accommodation, meals and transport at our House Acacia Interim Home while receiving cancer treatment.
Patients who truly have no means to make the N$150 daily donation are encouraged to apply for assistance.
We remain confident that we can keep our interim home doors open and continue to help our patients in their cancer treatment journey.
From the desk of CEO – Cancer Association of Namibia (WO30)
Donation Fee Structure – House Acacia